Have you been wondering how to create an animated screenshot? This guide will teach you how to install Peek and use it to capture your desktop.
Taking animated screenshots of your Ubuntu desktop can be a handy trick to know. It can be used in all sorts of situations. Such as capturing the screen while creating a tutorial. Or, to record your latest gaming achievement.
Ubuntu has many tools available to help you take animated screenshots. Such as Gifine, Kgif, and Qgifer. However, in this tutorial, we will be using an application called Peek.
Peek has recently been upgraded to version 0.9. And as such it has a host of new and handy features. Such as a resolution downsampling option. This helps the app use fewer resources while rendering the gif. Peek also now has the ability to record gif files with a frame rate as low as 1 frame per second.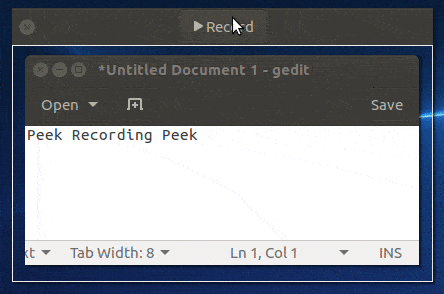 How to Install Peek 0.9 in Ubuntu
To begin installing Peek you will need to open a terminal window. You can easily do this with the hotkeys Ctrl + Alt + T. Alternatively, you can find a shortcut for the terminal in the Unity Dash menu.

Now that the terminal is open we can begin by adding the official Peek PPA. To do this, simply type the following command into the terminal.

sudo add-apt-repository ppa:peek-developers/stable


The first time you run a "sudo" command in a new terminal you will be prompted for your password. Go ahead and enter your password.

Once the PPA has been added you can then update your package list. Type the following command into the terminal to update.

sudo apt update


When the update has completed, you can then begin installing Peek 0.9. To do this type the following command into the terminal

sudo apt install peek

How to create an animated screenshot with Peek
Now that Peek has been installed, it's time to open it up. You can do this by opening your Unity Dash menu and searching for Peek. Once you've found the Peek icon, click it to open the application.

Before recording, you will first need to position the window over the area you want to be recorded. Everything inside this window will be recorded and saved as a gif.
To start recording, press the "Record" button at the top of the window. This will then bring up a countdown before recording starts. You will have 3 seconds to prepare for your screen capture. This time can be changed in the Preferences menu.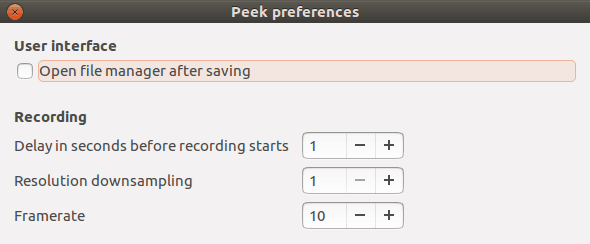 When you're satisfied with the recording, press the "stop" button where the record button was. This will then bring up a file browser for you to choose where to save your gif. Enter your desired location and click "save". After a few moments, Peek will render your image and save it to disk.