Do you need to update your Ubuntu kernel? This guide will show you how to install Ukuu and use it to update your kernel to the latest version.
What is Ukuu
Ukuu (Ubuntu Kernel Upgrade Utility) gives users a simple way to upgrade their Ubuntu kernel. It offers an easy to navigate interface that allows users to upgrade kernels with ease. Ukuu displays the latest kernels available for testing. These kernels can be downloaded and installed with a single click.
How to install Ukuu
**Warning!** – These kernels are not supported and are not appropriate for production use. They should only be used for testing and debugging purposes.
To install Ukuu you will need to open the terminal. You can do this with the hotkeys Ctrl + Alt + T or via the Unity Dash menu.

Type the following command to add the PPA to your list.

sudo add-apt-repository ppa:teejee2008/ppa


When prompted enter your password to authorize the installation.

Update your package list by typing the following command into the terminal

sudo apt-get update


Once updated, install the application with the command

sudo apt-get install ukuu

How to use Ukuu
To launch Ukuu, Open the Dash menu and search for "Ukuu".

Select the kernel you would like to update to and click install.
To finish installation you will need to restart your PC. Take not of the instructions shown after install in case you need to roll back to a pervious version.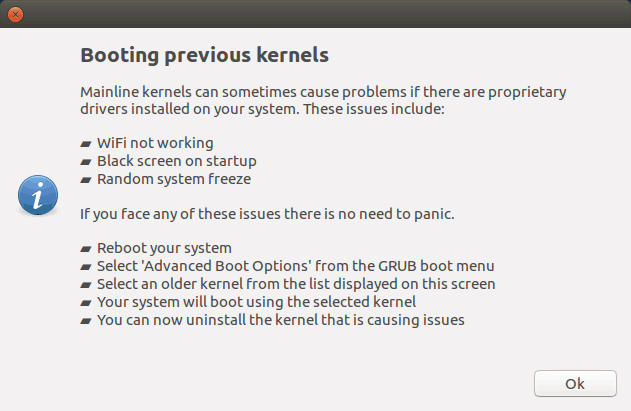 How to uninstall Ukuu
To remove Ukuu, you will first need to open a terminal. You can do this with the hotkeys Ctrl + Alt + T or via the Unity Dash menu.

With the terminal open, type the following command to remove the application.

sudo apt-get remove --auto-remove ukuu


Tidy up your package list by removing the unwanted PPA.

sudo add-apt-repository --remove ppa:teejee2008/ppa